Infrared electric heaters
Goldsun Supra electric heater
We have extended our knowledge of gas fired infrared heaters to electrically generated infrared heat with what we believe to be the most technically sophisticated electric heater you can buy.
Available in 1.5kW - 4kW in colours Black or White.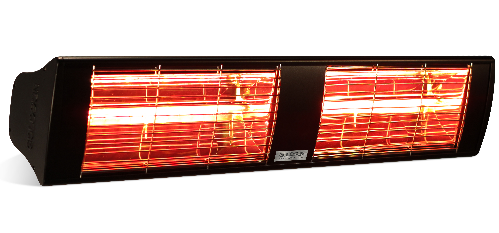 Advantages of using electric heaters from Infraglo
Custom designed parabolic reflector - reflects 99% of rays directly towards the target

Easy to install - can be plugged into a mains socket (2KW & below)

Rustproof body parts - longer lasting

IP55 Water resistant - can be used is harsh conditions

Instant heat - heats up to 2000°C in 2 seconds

Suitable for indoor / outdoor use

Compact design - ideal for cafe's & restaurants

Increased lamp life and heat intensity - cost effective - can be used on high ceilings

Weatherproof - heat is not affected by draughts, strong winds or rain

Universal burning position - works in all installation angles
Quartz lamps;
Infraglo's Goldsun electric heaters are equipped with HeLeN tubes which reach up to 2000ºC in only 2 seconds. Quartz heaters work like the sun, radiating their heat to a person without heating the air in between. No heat is lost to draughts or high ceilings as the heat is focused and controlled to a particular area. HeLeN infrared quartz lamps project infrared heat which gives off a gentle orange glow.
* None of the rays are reflected to the lamp or the heater body, increasing the lamp life and heat intensity.
Ideal for use
Cafes & Restaurants
Patios & Pergolas
Parks & Gardens
Camping areas
Waiting rooms
Smoking areas
Pool sides & changing areas
Factories, workshops, warehouses
Exhibition halls
Sports halls
Animal farms
Greenhouses
Soft play areas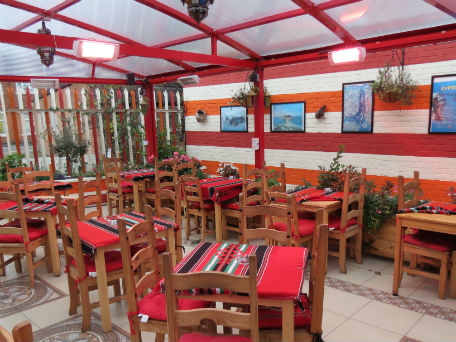 Our new range of "supra" infrared electric heaters have been installed at Tarboush cafe In Loughborough.
page last updated: 17/11/2022