Infrared Heaters
Our Infrared radiant heaters are used in a wide range of applications including:
Restaurants/ Cafés - Outdoor eating is becoming an essential part of restaurant economies
Factories - instant infrared heat offers directional warmth only where and when you want it, keeping running costs low.
Industrial units - overhead mounting releases valuable floor space.
Sports halls - warm floors and walls create the correct environment for ball games.
Churches - low running costs in high buildings.
Workshops
Patios or gardens
Camping areas
Smoking areas
Exhibition halls, show centres

Gas Burners
Our infrared gas burners are used in a wide range of industrial processes including:
Catering equipment - grills, rotisseries, frying ranges, griddles, kebab machines,
Naan & pitta ovens.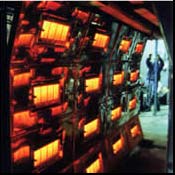 Drying everything from animal food, paint, cereal & vegetable crops.
Curing - dry powder & wet paint coating, stove enamelling, vitreous enamel.
Plastic shrink-wrapping
Die Heating, Ceramic hollowware and flatware pre heating prior/post glazing,
Glass forming/transfer setting, metal billet heating, metal annealing, destruction of "memory" in plastics.
Road laying plant - screeding & road planing
Forced draught installations - fabrication & welding
Construction & building - concrete & plaster drying, site heating
page last updated: 17/11/2022