500 series unit heater
Infraglo presents the 500 series heater, an indirect fired unit heater incorporating a very modern design with compact measurements, which would look great in any environment. The 500 series is provided with innovating technology as standard.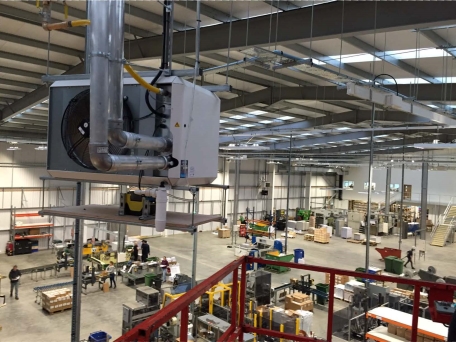 The compact measurements and the high level of comfort make this range suitable for many applications in all environments such as showrooms, retail stores, sports centres and even in restaurants, but also in traditional industrial environments.
One of the unique characteristics of the 500 series is that the heater can be suspended in any desirable position, horizontal, vertical or at any angle in between. Therefore easily directing the airflow in the direction required. When air is blowing out vertically, the heater also functions as a destratification fan. Installation in difficult corners is no longer a problem: one simply turns the heater upside down.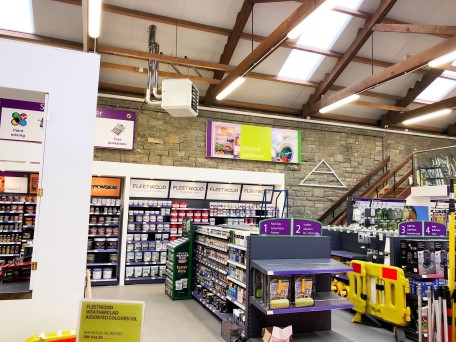 The burner and the fan are both self modulating (down to approx. 60%): the room is brought up to temperature at full load and consiquently kept at the desired temperature on partial load. The energy consumption and the noise level are reduced to a minimum while the comfort level increases as there are fewer fluctuations in the room temperature.
The 500 series uses an advanced control system which increases the comfort even further. Two temperature sensors, one within the heater and one in the room, measure continuously the temperature gradient. Should the temperature gradient increase beyond the set value, the unit will switch on the fan and circulate the warm air. The gradient control in combination with the modulating burner and fan can realise energy savings up to 15% in comparison with conventional unit air heaters.
Features
Very compact / reduced weight
Variable air distribution
Modulating premix burner & fan
SS- heat exchanger as standard
Energy saving
Modern design - easy to install
CE approved
Natural Gas/Propane
13kW to 140kW
LPHW version available
Electric version available
page last updated: 13/12/2021